The aim of the Master's program in Quantitative Decision Making in Economics and Management (QDEM) is to train students to acquire, understand and analyze data and to select appropriate analysis methods from a broad toolkit of up-to-date quantitative approaches. Students learn how to use the obtained results for decision making in the context of economics and management.
Profound knowledge in the fields of decision making and data analysis will provide our students to gain a new perspective on complex economic interactions and to fulfill a rapidly-growing demand for professionals with comprehensive analytical skills as well as with competencies in economics and management.
A detailed description of the program can be found in at the pages of the Study Office (
LINK
).
The Master's program in Quantitative Decision Making in Economics and Management is structured in three phases.
The core modules in the first semester (winter term, 30 ECTS) provide basic methodological skills in math, statistics, economic decision making, operations research and programming. The first semester also offers an introduction to the three domains econometrics, management science & business intelligence and economic behavior & strategy.
Equipped with the foundations laid out in the core modules, students can choose 7 modules (42 ECTS) from a wide range of modules offered across the three domains in the specialization phase (semesters 2 and 3). Depending on interests, they can select modules from two or three domains or focus on one domain. It is also possible to select courses from related fields (Free Part). All students take part in the academic skills module (6 ECTS), which covers foundations of academic research as well as training courses of personal skills. In two applied project seminars (12 ECTS), students apply their theoretical knowledge and obtain first research experience.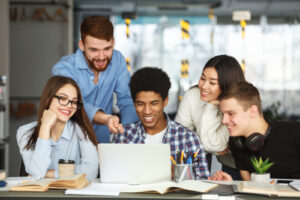 The last semester is reserved for the master thesis (25 ECTS) and the research colloquium (5 ECTS), in which students participate in research seminars and present their own research findings.
1st Semester: Core Modules
Mathematics/Statistics
Programming
Econometrics of Cross Section and Panel Data
Operations Research
Economic Decision Making & Strategic Interaction
2nd & 3rd Semester: Specialisation
Econometrics
Microeconometrics A
Microeconometrics B
Time Series
Computational Statistics
Analysis of Micro Data
Data Governance
Official Statistics and Survey Methods
Mehrebenen/Panelanalyse
Informations-/Datenschutzrecht
Management Science & Business Intelligence
Intelligent Information Systems
Data Analytics
Database Systems/Information Systems
Process Mining
Standortplanung & Netzwerkdesign
Transport Logistics I
Transport Logistics II
Revenue Management
Economic Behaviour & Strategy
Advanced Digital Economics
Behavioral & Experimental Economics
Behavioral Measurement
Behavioral Theory
Corporate Finance Theory
Inequality and Social Mobility
Survey Methods/Subjective Beliefs
Economics of Education
Academic Skills, 2 Applied Project Seminars
Free Part (further modules in Management, Accounting and Finance, Epidemiology, Sociology)
4th Semester: Thesis
Master Thesis
Master Colloquium
Please note that a small number of elective modules are held in German.
Admission Requirements
Bachelor Degree: A completed bachelor-level degree with at least 6 semesters regular period of study. Candidates should have taken at least 18 ECTS in the field of management or economics and 19 ECTS in the field of mathematics, statistics, econometrics or quantitative empirical methods.
Note that if you have not completed your degree yet, you can still be admitted if – by the time of application – you have already acquired at least 135 ECTS in a bachelor's program that takes six semesters and awards a total of 180 ECTS according to the European credit point system.
Language Skills: English language skills at B2 level, proven by one of the following options:

Higher education entrance qualification acquired in an English-taught institution
Bachelor-level degree in a program entirely taught in English
First Certificate in English (University of Cambridge ESOL Examinations) or higher (Advanced (CAE) or Proficiency (CPE))
IELTS (International English Language Testing System), with a minimum of 5,5 Points
TOEFL (Test of English as a Foreign Language), 72 (Internet-based test, ITB), 47 (revised TOEFL Paper-delivered Test, PdT)
Telc English B2
OTE (Oxford Test of English): average score of 111 from 140

Entrance test: Comprises a 90-minute-long online test, where students are required to document sufficient prior knowledge in the field of mathematics (analysis, linear algebra, stochastic), statistics (descriptive statistics, estimation and hypothesis testing), microeconomics (basic concepts, game theory and information economics) and basic knowledge in computer science (simple algorithms). The content is typically covered in obligatory courses of a bachelor's degree in economics and management.
Application Procedure
Students with a foreign university degree or other proofs of qualification must have their certificate recognized by the Student Service before applying (link). Due to the processing time, we strongly advise doing this well in advance.
With your certificates you can apply online for the Master's program Quantitative Decision Making.
After the approval of the formal requirements, applicants will be invited for the online entrance test. See the sidebar for information about the next test. The applicants will be informed about the proceedings ahead of time.
Once the selection process is completed, the university will notify you about whether you have been accepted for the Master of Science in Quantitative Decision Making in Economics and Management.
If you have any questions, please contact
Prof. Dr. Thorsten Schank
or M.Sc.
Daniela Maier
(program manager)
Sign up here to receive an E-Mail with details regarding information events about the QDEM.

Sign Up - QDEM Info Event