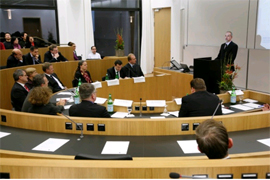 1. Excellent CHE Ranking Results 2014
The Master's courses in Management and Economics received top ratings in all categories. Students were particularly satisfied with the overall study situation and the feasibility of study at the University of Mainz. Respondents also reported that they were highly satisfied with the international orientation, the course offer and the excellent support provided by the faculty and administrative staff.
The CHE Ranking is the most comprehensive and detailed ranking in German-speaking countries. Besides facts about studying, teaching, equipment and research, the ranking also includes results of student evaluations with regard to study conditions at more than 300 universities and colleges in Germany, Switzerland, Austria and the Netherlands.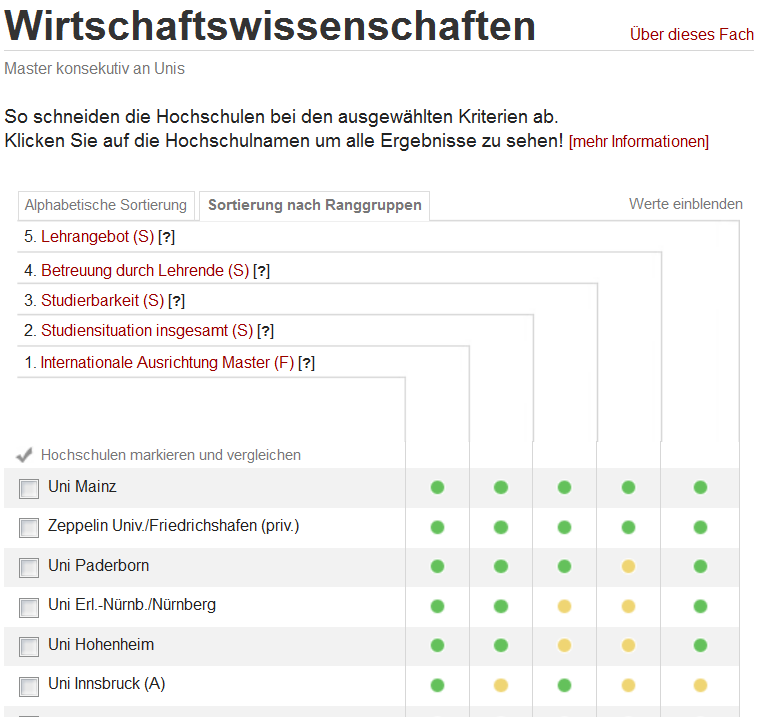 2. Handelsblatt Economics Ranking 2011
In 2011 the German Handelsblatt once again evaluated the research performance of 1700 professors of Economics in Germany, Austria and Switzerland and published the results in a ranking. Several professors of JGU Mainz again succeeded in being ranked among the top researchers.
Prof. Dr. Klaus Wälde holds rank 120 among all researchers in the overall ranking. Prof.Dr. Isabel Schnabel (rank 68) and Prof. Dr. Daniel Schunk (rank 86) are among the top researchers below the age of 40. In the University ranking, the economists from Johannes Gutenberg University Mainz were again ranked among the top institutions. They obtained rank 17 in Germany in the per-capita performance, and rank 18 in the overall ranking. When Austria and Switzerland are included, the respective ranks are 25 (per capita) and 27 (overall).
The complete results can be viewed by following the link Handelsblatt Economics Ranking 2011
3. Handelsblatt Business Administration Ranking 2009
For the second time after 2005 the Handelsblatt analyzed and ranked the research performance of 2100 professors of Business Administration in Germany, Austria and Switzerland. A number of professors from the Gutenberg School of Management and Economics reached a high ranking.
In the category "Current Research Activities" Prof. Huber, Prof. Rothlauf and Prof. Irnich can be found among the top 200. Prof. Huber also ranks among the top 100 in the category "Lifework". The third category "Top 100 researchers under the age of 40" includes Prof. Leisen, Prof. Rothlauf and Prof. Irnich.
The complete ranking results can be viewed at Handelsblatt Business Administration Ranking 2009