Goals and Visions
The GSME's Bachelor of Science program in Management and Economics offers a sound training in concepts and methods that are essential for understanding the operation of private enterprises and the functioning of the economy. Throughout their studies, students are taught tools for effective problem-solving and decision-making and they are supported in developing a solid scientific and practice-oriented grasp of processes and methods in business and economics.
The program consists of a Basic Study Period (2 years) and an Advanced Study Period (1 year). During the Basic Study Period students acquire a solid knowledge of elementary concepts and methods in management and economics. The Advanced Study Period offers the possibility to specialize in a selected field such as accounting and finance, international economics and public policy, marketing etc.
The program conveys practical knowledge and skills based on sound theory. By learning modern research methods and adopting a practice-oriented approach to real-world problems, graduates in Management and Economics will be suitably trained for entry-level career opportunities in private companies and public institutions. The development of communication and language skills is encouraged through:
Classes on presentation skills and working techniques.
The analysis of case studies.
The possibility to teach tutorials.
A large number of exchange programs with foreign universities.
A wide range of lectures taught in English.
For detailed program and admission information please refer to the detailed course description and curriculum structure.
Advantages at One Glance:
Modern, practice-oriented, integrative and empirically based studies.
Excellent support through a multitude of tutorials.
Senior students have the opportunity to participate in teaching activities.
Short study period.
Apply theoretical knowledge to the solution of real-life (business related) problems.
Presentation skills and working techniques are part of the curriculum (Skills & Tools).
Acquire key-competencies.
Attractive possibilities of specialization (3rd year).
Students acquire the tools specific to business processes and procedures.
International reference.
Acceptance of foreign course achievements.
A range of lectures conducted in English.
Curriculum Structure
The Bachelor's program is divided into 3 stages of study and lasts six semesters on average.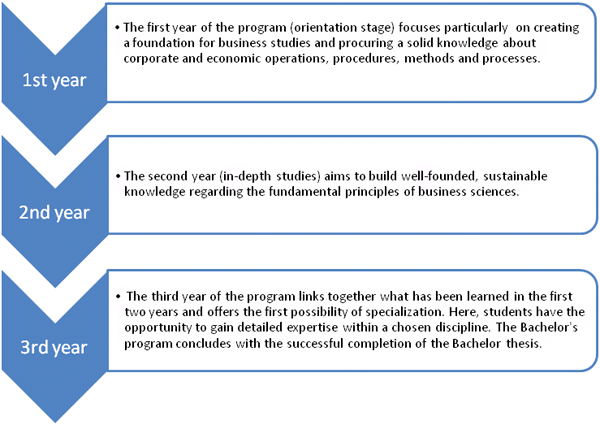 Illustration of Modules by Subject Area and Semester
Please note:
Semester 1-4: All modules are compulsory.
All modules conclude with an examination.
Failed examinations can be repeated twice. The first repeat examination is made possible before the beginning of the next semester. Students who failed an exam are required to attend the first repeat examination.
For a passed module, students receive credit points (CP).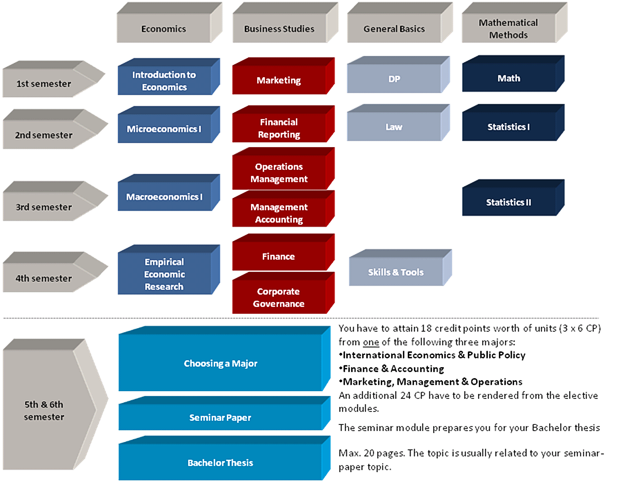 As an applicant who has graduated from a foreign high school, you can apply for the Bachelor of Science in Management and Economics program via the University's International Office. The International Office advises foreign students who would like to study at the Johannes Gutenberg-University Mainz.
Contact
International Office – Incoming
Johannes Gutenberg University
55099 Mainz
Germany
Hotline +49 6131 39-22525
Fax +49 6131 39-25548
Advising by appointment only
Dipl.-Kfm Thomas Rinke
Jakob Welder-Weg 4, Room 01-305 (In the Altes ReWi Building)
Tel.: +49 (0) 6131 39 24070
Fax: +49 (0) 6131 39 25531
Office Hours: Tuesdays and Thursdays 9:00-12:00 Uhr und Tuesdays 14:00-16:00 Uhr
E-Mail: studienfachberatung.wiwi.bachelor@uni-mainz.de