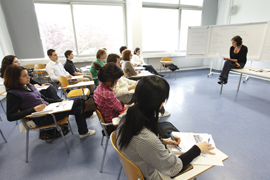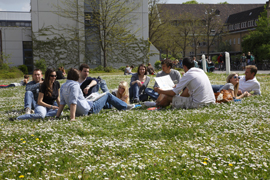 Benefits for Students:
Programs:
Appealing specializations in Management and Economics
An international focus: A large number of courses taught in English and various exchange programs that help students realize a stay abroad.
A multidisciplinary approach to research and teaching through collaborations with other faculties.
A strong research focus with multiple applications in business and economics.
Excellent career prospects in private enterprises and public institutions.
The GSME:
With more than 20 professors the GSME is among the largest institutes at the Johannes Gutenberg-University Mainz.
The GSME has a renowned faculty whose members actively contribute to discussions among academics, policy-makers and practitioners.
The GSME maintains a strong network of top partners in business and public institutions and encourages the transfer of knowledge beyond academic boundaries.
The GSME is integrated into a large international network of universities. This increases the mobility and flexibility of GSME students.
The buildings of the GSME lie at the heart of the university campus. The campus maintains an area-wide, free WLAN connection for students, several computer workstations with printers, several libraries as well as an environment that invites students to relax.