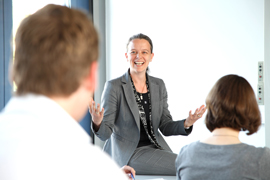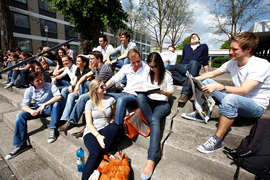 Our degree courses in Business Education offer you appealing opportunities with different job perspectives. Economics contents are being combined with a second selectable core subject (i.e. English or Social Sciences) with Economics Education, content didactics and school-related practical contents.
From your first day on you learn to develop valuable key competencies such as autonomously gathering knowledge on certain topics, transferring it into a trade context as well as developing and vividly presenting concepts. You will always gain professional feedback on all the steps you take.
The BA degree course in Business Education prepares you for a multitude of occupations outside schools, especially for external and on-the-job training and on conveying trading contents at school.