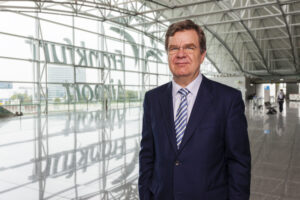 In acknowledgement of his accomplishments in education and science, the Prime Minister of Rhineland-Palatinate, Malu Dreyer, has awarded Dr. Philipp Goedeking the honorary professorship at Johannes Gutenberg-University Mainz (JGU) upon the proposal of the Faculty of Law, Management and Economics. On Friday, 29 October 2021, Dr. Goedeking was solemnly handed over the certificate of appointment at the Presidential Office of the JGU.
Since the summer semester of 2015, Dr. Goedeking has been offering the lecture "Airline Strategies", which is complemented by seminars and project theses at the graduate level.
We are delighted to welcome Dr. Goedeking, a highly renowned and respected expert in the aviation industry, as an honorary professor at the faculty.